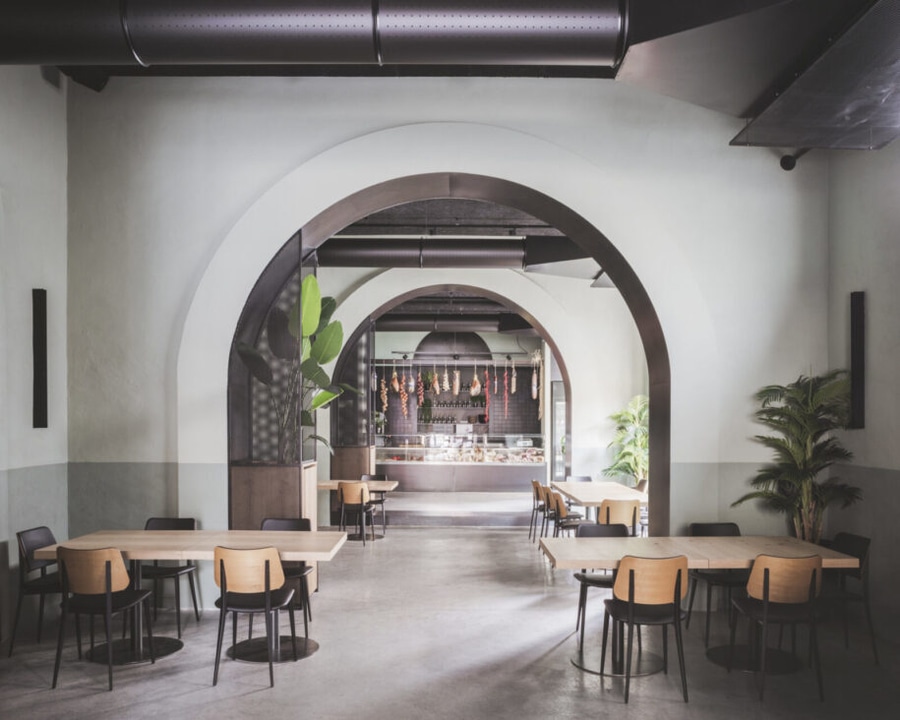 #

COMMERCIAL ARCHITECTURE PROJECTS
A garage turns into a restaurant in the port area of Palermo
Studio Didea designs the restaurant la Brace mixing industrial and minimalist styles and including a pizza restaurant, a butcher's area and a sushi corner between the arches and cross pillars of a former garage.
A former garage on the ground floor of an early 20th century building located near the port of Palermo is the frame of the new interior by Studio Didea.
The double roadside view of the restaurant and the longitudinal layout with two naves marked by cross pillars and large masonry arches have led to a clear and functional division of the area: a large central dining room with kitchens and service rooms on the short sides. A hopper window opens onto the street to allow take-away.
Sage green walls marked by a darker band reminiscent of the old boiserie – a tribute to its former function as a garage – together with cement flooring and dark sound-absorbing ceilings with exposed piping, create the setting for the restaurant, while a system of perforated wire mesh is used as storage and furnishing infrastructure.
The industrial aspect has been combined with the warm colours of natural oak wood – used for tables, chairs and counter – and of lava stone marble – used to cover the pizza restaurant and the butcher's corner – as well as a rich variation of succulent plants that give the restaurant an exotic and relaxing atmosphere.