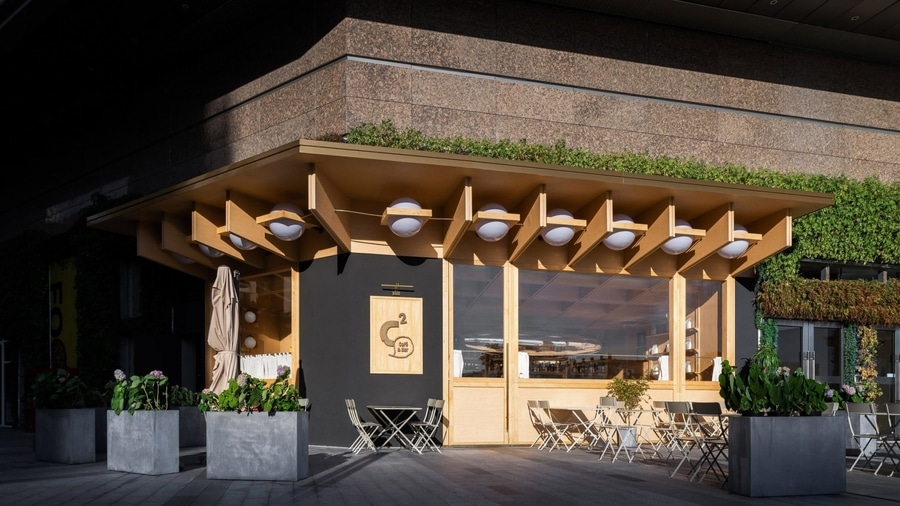 #

COMMERCIAL ARCHITECTURE PROJECTS
Various Associates designs C2 Cafe & Bar as a wooden "cabin in the city"
Various Associates has designed a cafe and cocktail bar in Shenzhen, China, which is lined with wooden cladding and furniture to emulate a small cosy cabin.
The 75-square-metre cafe, which nestles amongst offices and apartment buildings, was commissioned by a group of young locals to offer the community respite from fast-paced city life.
Shenzhen studio Various Associates used wood as the primary material for the cafe to contrast with its concrete surroundings, helping to establish the cafe as a sanctuary.
"[The client] wanted to create a suitable, semi-private place with a unique style for mainly young people, as well as build a new brand for their cocktail and coffee bar with casual dining," the studio told Dezeen.
"Our concept is a 'cabin in the city', so the materials are warm and light colours, in order to create a cottage-like space."
Outside, the cafe is distinguished by large wooden panels and signage, teamed with black-painted walls that complement the adjacent buildings.
A wood-lined, overhanging roof adorned with spherical lights is used to shelter an outdoor seating area that wraps around the cafe.
Despite the small size of the cafe, Various Associates managed to incorporate a kitchen, bar counter, public seating area and private dining room inside.
These spaces are united by a sloping, gridded ceiling, into which a series of mirrors and circular lights are slotted.
The gridded ceiling is linked to the overhanging roof and intended to help blur the boundary with the outside.
Each room is also filled with wooden furnishings to continue the cosy, cabin theme, and help connect the cafe's interiors to its exterior even further.
Among the wooden furnishings are wall panels, the bar counter and chairs, alongside a series of smaller circular tables and curved seats.
These are set against a terracotta tiled floor and teamed with yellow-painted table tops and portions of grey leather-look upholstery.
The cafe is complete with a futuristic, silver art installation that hangs over the bar, designed to reflect the cafe's surroundings and create "a micro world" inside.
Various Associates is an architecture studio based in Shenzhen, which was founded in 2017 by Dongzi Yang and Qianyi Lin. Elsewhere in Shenzhen, the studio designed the Voisin Organique restaurant to resemble a gloomy valley.
The studio also recently completed the SND Boutique, a monochromatic retail space in Chongqing, which was shortlisted for the Dezeen Awards in 2019.
Photography is by Feng Shao.
Project credits:
Architect: Various Associates
Project leader: Q Lin
Design team: Dongzi Yang, Shiqi Li