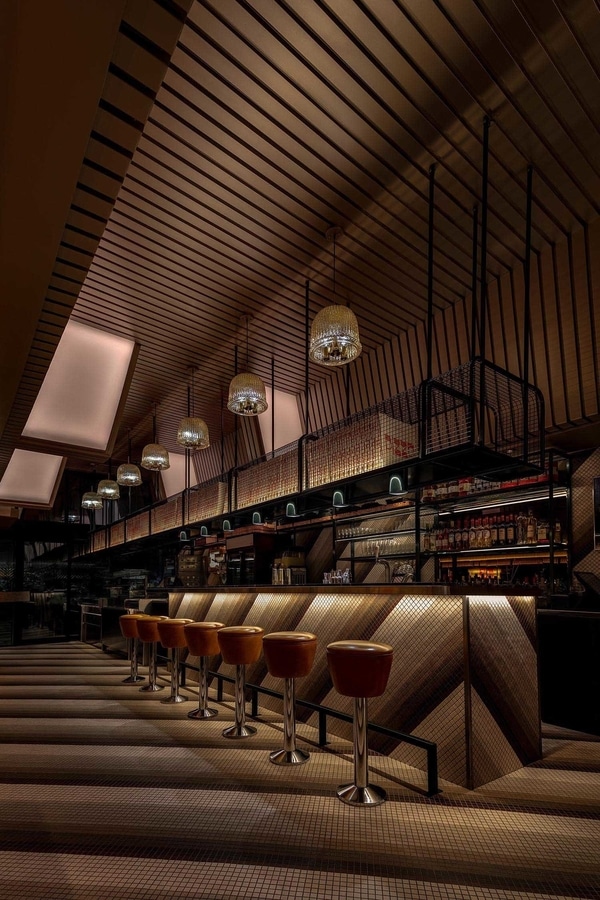 #

COMMERCIAL ARCHITECTURE PROJECTS
The Diagonal Tile Pattern Found Throughout This Restaurant Is A Noticeable Design Feature
Canadian design firm Atelier Zébulon Perron has recently completed the 'Gentile Pizza Parlour' in Montreal, Quebec, whose interior has a striking tile design.
Inspired by the family legacy, the new restaurant's original concept pays tribute to the classic pizzerias of the 70s and 80s in New York City, balancing retro and contemporary elements to create a chic and colloquial space, with a strong identity.
Key to the interior design is a continuous diagonal tile pattern that covers the floors, the walls, and the bar.
Several different colored tiles have been used to create crisp lines, which are a contrasting element to the curved seat of the bar stools.
The diagonal lines flow through to the dining area, where there's a mix of marble and vinyl tabletops, layered, prefinished wood-paneled walls with backlit mirrors, amber glass dividers, and old-fashioned vertical blinds.
The tiles even continue through to the service areas and bathrooms of the restaurant.
Here are a few closeups of other design elements that include materials like marble, walnut, vinyl, pewter, leather, prefinished wood paneling, tile, steel, amber glass, and mirror.