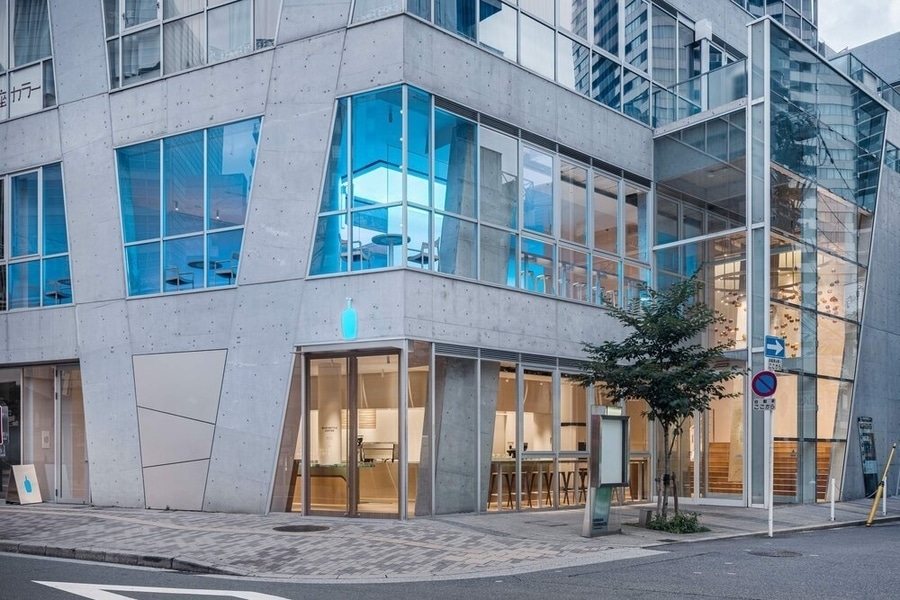 #

COMMERCIAL ARCHITECTURE PROJECTS
I IN infuses japanese café with vivid-blue tone that stimulates the senses
THE UMEDA CHAYAMACHI CAFÉ FOR BLUE BOTTLE COFFEE
Tokyo-based studio I IN has recently completed the design of blue bottle coffee's Umeda Chayamachi café in Osaka, Japan. The brand's iconic blue logo vividly defines the space, giving customers the joy of discovering the coffee brand's familiar color through various lighting features and materials. Historically, Chayamachi is also known for its unique japanese tea culture that brings people together. As such, this sense of unity is interpreted in a modern way throughout the whole café. 'It is not just a concept, but a place that really stimulates the fives senses. The space has become a completely new café interior that offers a special experience while enjoying a cup of coffee,' states I IN.
VIVID-BLUE ACCENTS + WARM MATERIALS THAT STIMULATE THE SENSES
The I IN team organized the first floor to welcome customers into a coffee shop surrounded by warm-colored wood, with a big drip station flooded with a bright and welcoming light. A counter made of hairline polished stainless steel boldly stands with a reflective quality that blurs the boundary between the barista and customers. However, the most prominent design feature is the special blue glass that punctuates the entire café to express blue bottle coffee's iconic brand character. Moving to the staircase area, a glass chandelier hangs from the ceiling and spreads throughout the atrium. Its coffee-colored glass spheres, made by a japanese glass artist, gently invite guests to explore the upper level. 'Customers can feel the flow light and color thanks to the three-dimensional space experience of the stairs,' elaborates the team.
At the center of the second floor, a special area gets flooded in blue light to stimulate the visitors' five senses. By spending time there and bathing in the images and sounds that 'fall' from the ceiling, guests experience a unique ambience that can change their impression of time. 'Images and music, created in collaboration with panoramatiks, allow customer to fully reset. The bench, made of a special material, functions in a way that only the person who sits can encounter that sensory experience,' adds I IN.
Project info:
Name: blue bottle coffee Umeda Chayamachi café
Location: Osaka, Japan
Client: blue bottle coffee
Architecture + design: I IN
Lighting design: Y lights
Construction: TANK, atelier loöwe
Photography: Tomooki Kengaku