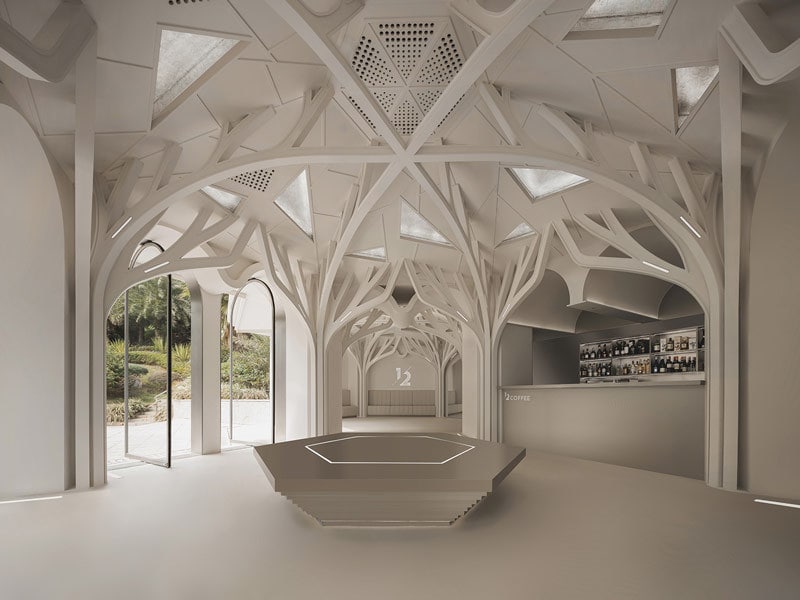 #

COMMERCIAL ARCHITECTURE PROJECTS
½ Coffee & Bar Gulangyu Store: a space signed PANDA NANA
½ Coffee & Bar is the story of a café/bar open since 2018 in Xiamen, China. A brand of coffee, integrating coffee (of course) and inn.
The rapid development of the company allows it to launch branches in this same city and in the surrounding islands in 2021. PANDA NANA is then responsible for carrying out the design of the spaces.
Create a composite place in Gulangyu, in the South-West of the island of Xiamen: this is the mission entrusted to PANDA NANA. The goal ? imagine a space in harmony with the natural environment where the ½ Coffee & Bar Gulangyu Store is located. And for good reason, Gulangyu is listed as a UNESCO World Heritage Site.
It is therefore quite logical that nature inspires the designers to create the interior space of this place, located on the Dadeji bathing beach, more precisely, on the Shengqi mountain of the island of Gulangyu. Namely that the original structure of the project was part of an old XNUMXth century building. The dome-shaped building also has a view of the sea, blending harmoniously into the surrounding landscape.
The architects have retained the proportions of the original building here while adding a veranda, inside which the vegetation of the island flourishes, creating a canopy in the space thus imagined.
Strips of light are embedded between the "tree twigs", and as night falls, the place gradually takes on a new identity, under the light of neon lights.
This is how this place between café and bar was born, a composite place where you can come and drink a coffee during the day and party at nightfall... while enjoying a decoration resolutely in harmony with the external environment.
A beautiful achievement signed PANDA NANA!