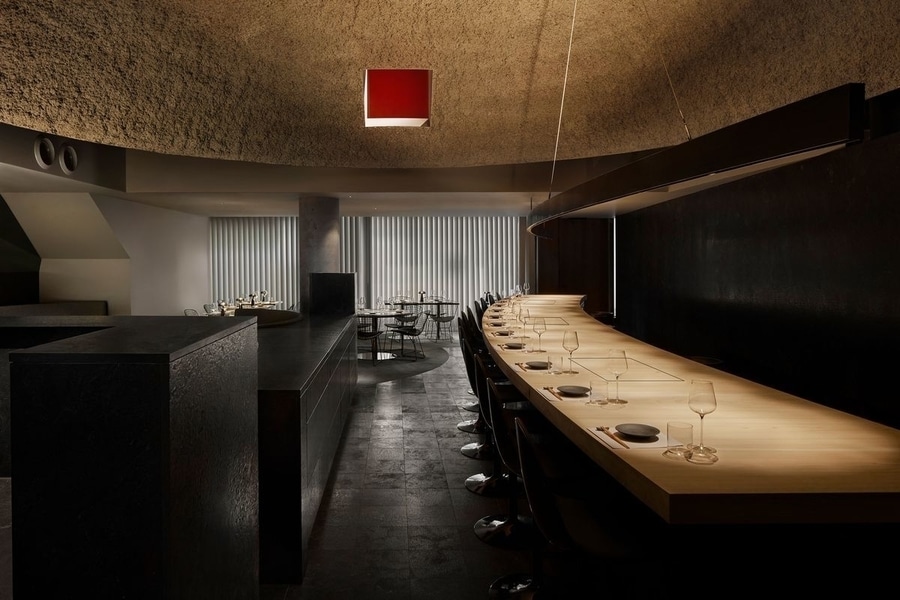 #

COMMERCIAL ARCHITECTURE PROJECTS
Culinary theatre: Sushi Room
Drama and elevation were the key objectives on the designers' minds when creating the Calile Hotel's newest restaurant, the Sushi Room.
Richards and Spence's design for the fine-dining space is inspired by the intricate and delicate art of sashimi and sushi preparation.
A 9.3-metre solid Japanese hinoki timber counter suspended in black limestone acts as a stage set for the chef to perform the theatre of traditional Japanese culinary acrobatics. Hinoki is a traditional and culturally significant timber native to Japan and Eastern Asia, with an intricate grain pattern and a distinctive aroma.
Japanese-trained head chef Shimpei Raikuni said "simplicity, purity of flavour and intelligence" would form the basis of the Sushi Room's menu – one that, while elegant and beautiful, is simultaneously restrained and simple, and adhering to Japanese sensibilities and form.
These qualities can also be applied to the space, which, while embracing a flare for the dramatic, is symmetrically subdued and minimalistic, creating what architect Adrian Spence calls "a moody cold-war glamour with a knife sharp accent on detail and spotlight on food."
The newly renovated space references a "nostalgic abstraction" of Japanese mid-century pop culture, and through materiality and texture, light and shadow, channels the neo-futurist style of the 1960s. The space uses natural stone, timbers, papers, and traditional Japanese Kuriēto ceramics.
In the main dining room, a large, shallow dome sweeps over the seating area. A striking voyeur's window punches through the textured concave ceiling providing a glimpse into the private red dining room above.