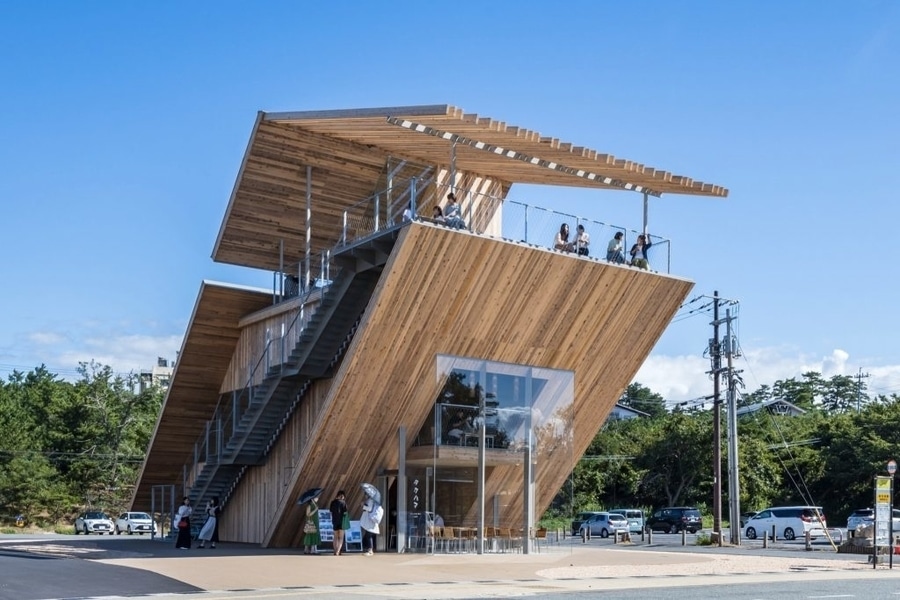 #

COMMERCIAL ARCHITECTURE PROJECTS
Kengo Kuma designs observatory/café in Japan as a 'staircase to the sky'
TOTTORI TAKAHAMA CAFÉ: A HYBRID STRUCTURE STEPPING UPWARD
Kengo Kuma and Associates (KKAA) introduces its latest creation to the coast of Japan. Overlooking sand dunes and open waters, the Tottori Takahama Café appears as a hybrid structure of cross-laminated timber and reinforced concrete, seemingly stepping upwards like a 'staircase to the sky'. Topping the two-story café is a viewing rooftop shaded by a sculptural wooden pergola, offering sweeping views of the landscape ahead. Ultimately, with its textured and wood-paneled exterior, the building exudes a warmth that gently blends in with the nearby dunes
KENGO KUMA PAYS HOMAGE TO THE CITY'S FOLK CRAFTS
As an homage to Tottori, which is well-known for folk crafts ('Mingei') culture, the team at Kengo Kuma and Associates incorporated local craftsmanship into the café interiors. 'Chairs are designed with cross-laminated timber, while light pendants are made of Washi paper sprinkled with local sand. The bathroom sinks are made by Nakai-gama, a Tottori Mingei pottery workshop, which uses a beautiful combination of green and black glazing,' explains the practice.
When night falls, warm-toned lighting enlivens the textured facades and rooftop pergola, adding dramatic flair to the Tottori Takahama Café without taking away the inherently intimate atmosphere that floods its spaces.
Project info:
Name: Tottori Takahama Café
Location: Tottori, Japan
Completion year: 2022
Area: 199 sqm
Architecture: Kengo Kuma and Associates | @kkaa_official
Team: Minoru Yokoo, Taichi Kuma, Hirono Yamamoto, Yoo Shiho
Construction: Taisei Corporation, Daiwa Kensetsu
Lighting: Daiko Electric Co., Ltd.
Photography: Kawasumi-Kobayashi Kenji Photograph Office