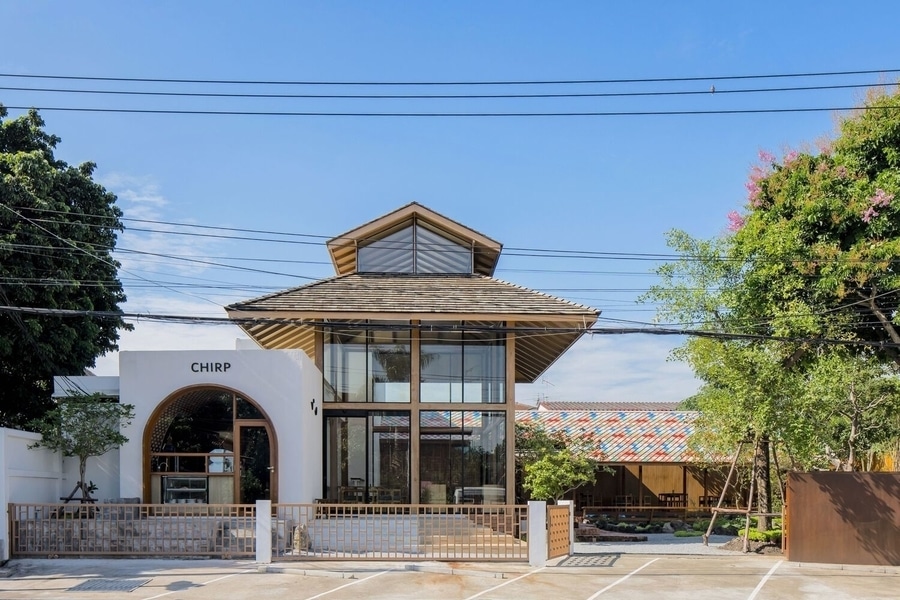 #

COMMERCIAL ARCHITECTURE PROJECTS
Chirp Café & Chat Space / FLAT12x
Chirp Café & Chat Space is the new cafe and restaurant that is situated in the 2nd oldest city in Thailand. The UNESCO's city, Ayutthaya. This old house turned into the café project portrays the mediation between the contemporary use of the building and its larger context.
The project locates in an old residential area, with only 500 metres close to Wat Mahathat, the most significant Royal Temple of the Ayutthaya Kingdom. In an architectural aspect, to design this project is not only to meet the owner's commercial requirement, but also to observe and pay the respect to Ayutthaya's architectural tradition and history. The project portrays some ideas from the past, which can be seen since planning, through architecture and design elements. Brick plinth was used mostly to avoid flooding and guarding the building from the surroundings, are used to echoes the important of the building foundation from the ancient city, introducing visitors the entrance as well as separating the main building from the roofed terrace; reflecting Thai traditional terraced house.
The strong contrasting colour palette was used widely from the old days until now, Chirp Café & Chat Space reinterprets the vibrant use of colours in softer palette. The roof of terrace is paint in Thai weave pattern in mixed colours related to the open-air garden. Shingle-roof was mostly and widely used back in decades, the double shingle roofs are used to cover the main building, which is built in Ayutthaya great-sized proportion for gathering the people. The main building appearance is to recreate the old Thai "bird house" as the owner wants the project to be part of Ayutthaya old time activity. Playing birds was once popular, which allowed people to chat.