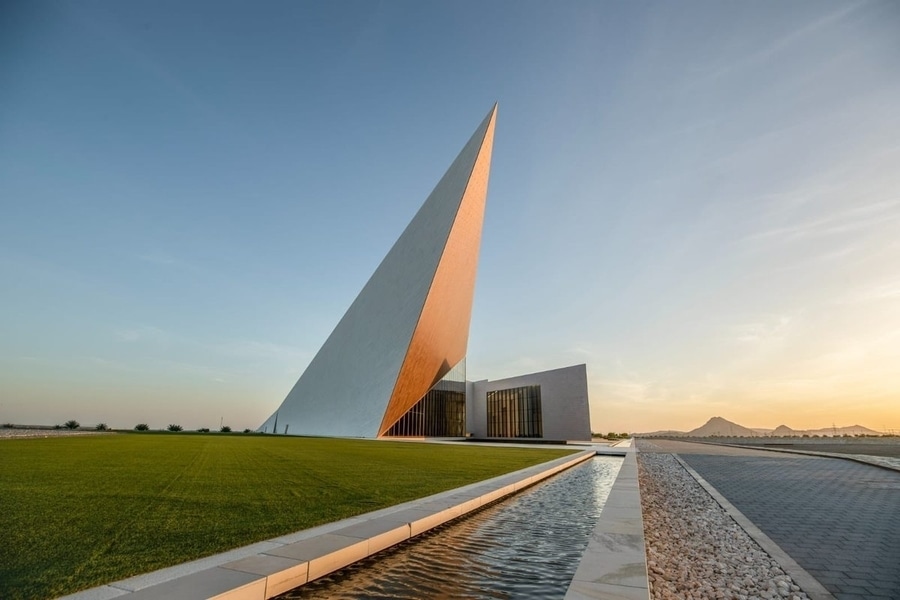 #

PUBLIC ARCHITECTURE PROJECTS
'Oman across ages' museum opens doors, retelling the nation's history with high-tech exhibits
COX ARCHITECTURE & EVENT CELEBRATE OMANI HISTORY & CULTURE
Oman's newest cultural landmark transports visitors through the nation's 800 million year history through a series of immersive, high-tech experiences at the recently inaugurated Oman Across Ages Museum. Located near the ancient city of Nizwa, the monumental steel-clad structure conceived by Cox Architecture emerges from the plane as a series of angular, geometric volumes that sit in dialogue with the encompassing backdrop of the peaks and ridges of the Hajar Mountain range. In harmony with the architecture, the exhibition design brought to life by Event celebrates Oman's rich heritage from prehistory to modern day using the latest technologies such as AR, 3D scanning and printing, and a 360° theatre.
DRIVEN BY IMMERSIVE, HIGH-TECH EXPERIENCES
From the concept and architectural masterplan to the exhibition design, global experience agency Event has created an interactive venue that celebrates Oman's history and culture as well as its future. Ensuring the structure and exhibition design work together, the group worked closely alongside Australian firm Cox Architecture who looked to the region's scenic landscape to derive the museum's geometric form. The sharp volumes of the facade invoking the mountainous canyons further give rise to the recurring triangular motif along the interior which can notably be seen in the exhibition galleries' tessellated walls.
Stepping inside, the Oman Across Ages Museum comprises a library, auditorium, classrooms, and a vast permanent exhibition with over 9,000 sqm of space divided into two wings. The collection journeys through Oman's ages, dynasties, and civilizations guided by a series of multimedia technologies, including audio-visual and tactile elements, that transport audiences to various times and places. An archeological site plan including physically reconstructed huts are overlaid with ancient peoples engaging in various activities using augmented reality. Meanwhile, 3D scanning and printing have been used on an unprecedented scale to remodel a geological structure of a folded rock.
Project info:
Name: Oman Across Ages Museum
Location: Nizwa, Oman
Architecture: Cox Architects
Masterplan and exhibition design: Event