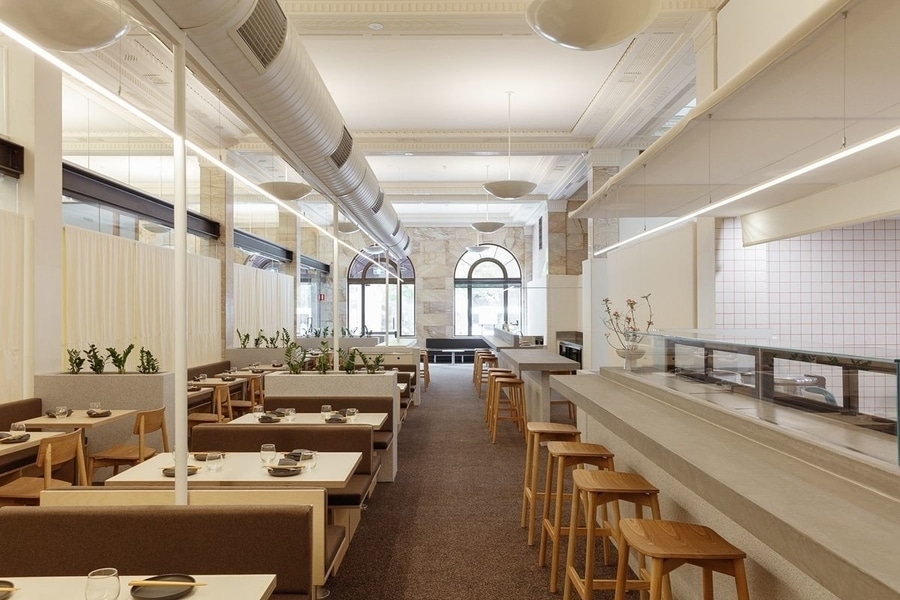 #

COMMERCIAL ARCHITECTURE PROJECTS
Umaii by Sans Arc Studio
Umaii is a 1980's "city pop"-inspired Japanese izakaya, neatly designed and housed within a historic building in Adelaide's CBD. Designed by Sans Arc Studio, Umaii demonstrates how intervention into heritage-listed space can be both unobtrusive and explore contemporary design ideas, while adhering to a limited budget.
The heritage-listed Elder House, built in 1937, is a prominent building in Adelaide's city centre – featuring a large frontage that is faced with South Australian red granite. Sans Arc Studio intentionally positioned Umaii to sit off of the historical marble interior walls and delicately within the space, as if carefully dropped from above.
"The intention with Umaii was to emphasize the room it sits within and to create a space that is natural and modern, but also restrained and modest," said Matiya Marovich, director of Sans Arc Studio. "The clients wanted the mood inside to feel calm. They wanted to play this particular 1980's Japanese pop playlist, inspired by the pastel-coloured artwork of Hiroshi Nagai, and feel transported to that era in Japan," said Marovich. Hiroshi Nagai's delicately coloured illustrations depict urban living in 1980s Tokyo, a time of optimism and hope for the future.
Sans Arc Studio combines a muted material palette of natural timber, concrete and swathes of beige fabric that serve as a low-impact partitioning system for Umaii. "The idea of the fabric was to use a material that was as minimal as possible, with no real waste and which could be easily disassembled and reused," said Marovich. Sans Arc Studio prioritizes the use of sustainable building materials and an environmentally responsible approach, paying careful attention to reduce material waste in the fit-out of Umaii.
Sans Arc Studio has designed Umaii with restraint and clever incorporation of the building's existing fabric. The restaurant sits sensitively within its context and encapsulates the Japanese spirit of understated sophistication – creating a tranquil setting for devouring yakitori, nigiri and umeshu cocktails.