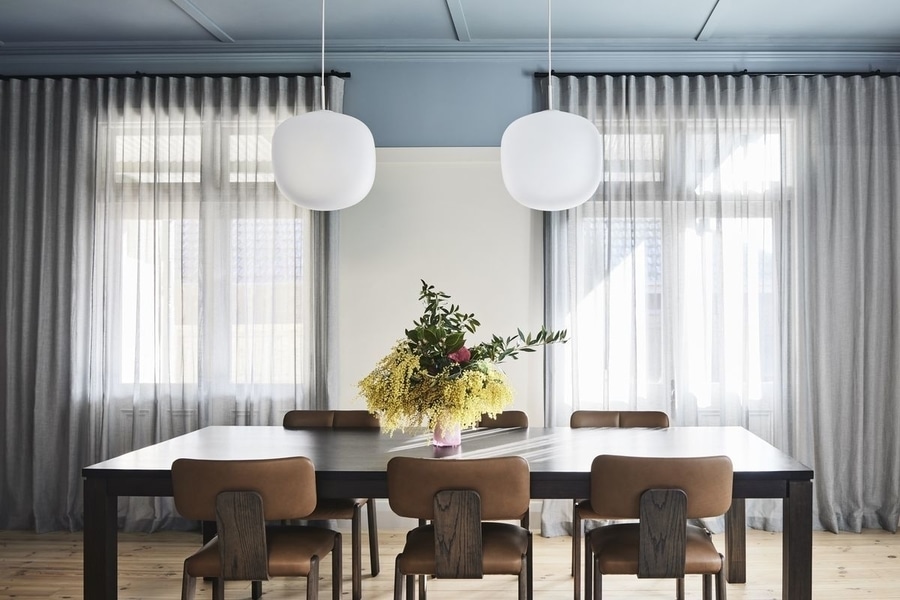 #

RESIDENTIAL ARCHITECTURE PROJECTS
Hellenic Homecoming by Maria Danos Architecture
Grecian stone, ocean colours and fluted profiles recall faded Athenian glamour in this reworking of a heritage home in Melbourne's Little Greece precinct, transforming a dark, unremarkable series of rooms into a dreamlike spatial sequence.
Architect Maria Danos and her client connected over a shared cultural psyche, both being Australian-born with Greek backgrounds. The task of redesigning the 1920s property in the Melbourne suburb of Oakleigh into a multigenerational home was therefore charged with personal meaning and memories shared by client and architect. Ultimately born from a reverence for place, the end result – fittingly titled Hellenic Homecoming – enlivens the old home with a greater sense of clarity and spaciousness, and warmly fosters familial connections.
Located on a wide, leafy street, the period home offered solid bones to work within. Largely housed on a single level, the home was conducive to family life with their grandmother – yiayia – while an attic retreat and bathroom were used by the family's teenaged son. The integrity of the interior, however, had been clouded by an unsympathetic 1990s addition, which incorporated a series of inauthentic heritage features: ornamental ceiling roses, timber fretwork and a decorative timber shroud to the front room's fireplace. "At night, the spaces felt particularly oppressive," observes Maria, who shared her client's vision for a clearer, more uplifting atmosphere to transform the home.
Maria began by peeling back incongruent layers to create a greater sense of spatial order. Original Baltic pine floorboards were stripped back and lime-finished to subdue their tone, while skirtings and cornices were thoughtfully retained to reduce waste. Unoriginal leadlight windows in the home's French doors were replaced with clear glass, modernizing their expression while repurposing their timber frameworks and fastenings. "I feel a strong obligation to reuse features where possible," reflects Maria. "I truly feel that great interiors have the potential to endure for many years to come."
In developing the home's captivating palette, Maria drew on the vibrant blue tones of the home's front door leadlights, sparking synergies with Hellenic architecture and the cerulean sea and sky of the Mediterranean. Enamoured with these calming tones, Maria "saw an opportunity to explore ideas of Hellenism as a visual translation, but also in nurturing family and celebrating identity." Central to this ambition was crafting a space to intuitively congregate – a function that was lacking in the home's existing layout.
The kitchen, once enclosed in a U-shaped arrangement, has been reworked as an open gathering space awash with tactile materials. The timber floors were replaced with Elba marble, a material that is "as warm as it is cool," suggests Maria. This material change creates a point of transition between the kitchen and the living/dining room. A lowered bulkhead heightens this threshold, framing the kitchen's careful composition of deep blues, whites and soft greys. A sculpted island bench promotes interaction and activity, its tapered form and rounded edges easing circulation. The island's column leg ensures a visual lightness befitting the compact space, and it is balanced by a delicate, bell-shaped pendant made from mouth-blown glass.
The kitchen's rear wall is finished in a stretch of undulating split-face Elba, overlaying a subtle sense of antiquity, and contrasted by glistening periwinkle blue finger tiles. In the centre, a floating shelf finished with a scooped end profile sparks a playful dialogue with the wall light above, and maximizes opportunities for storage and display. White fluted wall panelling wraps from the kitchen's adjacent wall into the living and dining spaces, a datum that unites the spaces. Above, a soft, powdery blue saturates the upper walls and ceiling, where the simple addition of timber strapping accentuates the feeling of craft and detail.
In the living room, a bespoke credenza, finished with grass-cloth inlays in deep inky blue, supports the client's love of entertaining and is offset by an open shelving unit. These shelves – "life's little containers," as Maria describes them – offer small and ever-evolving vignettes of the client's identities. Australian furniture and Aboriginal paintings sit alongside works by established and emerging Greek artists, and the family's heirloom piano; all enhance the personal narrative of these rich family settings.
The expression of tactile, contrasted finishes is continued in the home's two bathrooms, with bands of Elba marble and blue finger tiles rationalizing existing volumes and carving opportunities for integrated ledges. Fluted basins allude to the character of ancient Greek architecture, while offering a point of connection to the home's wall panelling. Both bathrooms are planned to optimize accessibility and ease of use as yiayia approaches her senior years.
Subtle additions to each bedroom ensure the home's new tone is felt throughout, with grass-cloth-covered robe doors, loop pile carpets and soft drapery offering an atmosphere of relaxation and respite. Indeed, the effect of Maria Danos Architecture's pared-back ethos and refreshing palette is transformative, increasing the home's sense of scale, while serving as a vehicle to express identity. "The work has to speak to the clients, to their way of living, to their individuality," reflects Maria. Tactile, detailed, restrained and balanced, Hellenic Homecoming reflects its residents in spades.
Products and materials
Internal walls
Laminex Surround linings; split-faced Elba dolomite stone tiles from Artedomus; Niseko mosaic tiles from Byzantine Design in 'Baby Blue'; Phillip Jeffries Juicy Jute wallpaper and joinery inlay in 'Indigo Sea'.
Windows
Inside Edge Warwick Crete S-fold curtains.
Doors
Custom timber-framed glazed doors with timber tracery detail and Boba limed finish.
Flooring
Honed Elba dolomite stone tiles from Artedomus; Dante Grigio glazed tiles from Byzantine Design; existing Baltic pine timber floor sanded back and refinished in Bona Prime 'White' and Traffic extra-matt; Bremworth Pebble carpet in 'Queenstown Hill'.
Lighting
Coco Flip Jolly wall sconce ; Jardan Dawn pendant light; Artemide Dioscuri wall lights; Muuto Rime pendants and Lampe Gras DCW No 214 wall light from In Good Company.
Kitchen
Brodware City Stik mixer in 'Chrome'; Oliveri Spectra stainless steel sink; Fisher and Paykel oven induction cooktop, dishwasher, rangehood and integrated refrigerator; Elba dolomite stone benchtop from Artedomus; Laminex Absolute Matte joinery in 'French Navy,' 'Oyster Grey' and 'White'; Castella joinery pulls.
Bathroom
Meek Doric round ECC concrete basin; Brodware City Stik and City Plus tapware in 'Chrome'; Caroma Aura bath; Mizu Drift towel rail; Villeroy and Boch Subway 2.0 toilet.
Heating and cooling
Split-system units; Aeratron pendants; Bradford Gold roof and sub-floor insulation.
Other
Jardan Murphy chairs in Greyson leather; Crown Lounge chair by Massproductions from In Good Company; Skáfos terracotta vase and umbrella stand by Chris Connell for Artedomus Vibrant blue tones spark synergies with Hellenic architecture and the cerulean sea and sky of the Mediterranean..
Credits
Project
Hellenic Homecoming
Architect
Maria Danos Architecture
Melbourne, Vic, Australia
Project Team
Maria Danos
Consultants
Builder: Larik Constructions
Engineer: Bland Connard Menzies
Lighting: Maria Danos Architecture
Aboriginal Nation
Hellenic Homecoming is built on the land of the Wurundjeri Woi-wurrung and Bunurong peoples of the K
Site Details
Site type: Suburban
Site area: 629 m²
Building area: 225 m²
Project Details
Status: Built
Design, documentation: 2 months
Construction: 5 months
Category: Residential
Type: Alts and adds