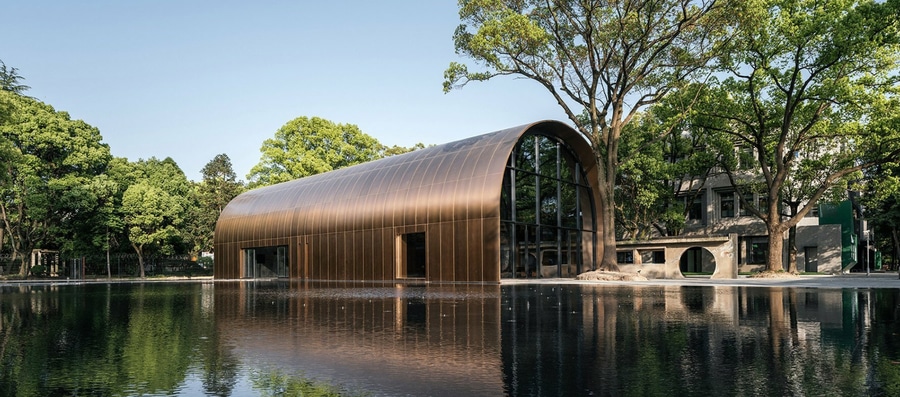 #

PUBLIC ARCHITECTURE PROJECTS
Wutopia lab encloses cultural activities within arched copper blockhouse in shanghai
WUTOPIA LAB SETS UP COPPER BLOCKHOUSE IN PUDONG'S CREATIVE PARK
Architecture and design practice Wutopia Lab constructs 'Copper Blockhouse', a multi-functional spiritual and cultural space in Shanghai, China. The structure is named after an air raid shelter reserved on the project site, a solid fortress. Drawing from nautical machinery and ships' huge metal bodies, the project is enveloped inside an arch made entirely out of metal, and more specifically copper. The design and volume are informed by the original arched shed on the site. The construction of the building starts with the keel, which is made of welded structural steel from 150mm to 220mm wide, covered by copper plates on both sides to form the internal and external facades.
THE ARCHED METALLIC SHELL IS REFLECTED ON THE BLACK WADING POOL
The gleaming stainless-steel space hosts the functions of a café, as well as a stage, with a kitchen and a bathroom. The grass on the north side of the fortress is designed into a large black wading pool. The 'Copper Blockhouse' is presented as a submarine, 'emerging from water surface like a shimmering whale, quietly, silently, rippling inside', shares the architect. The metal shell bends in a perfectly curved arch as the shining skin is reflected on the body of water, yet the architecture stands simple and subtle within the abundantly designed surrounding park. The 'fortress' adopts a variety of functions from exhibitions, and performances, to lectures, parties, museum events, and even skateboarding activities. The café can be used as a stage when the gate towards the pool is kept open.