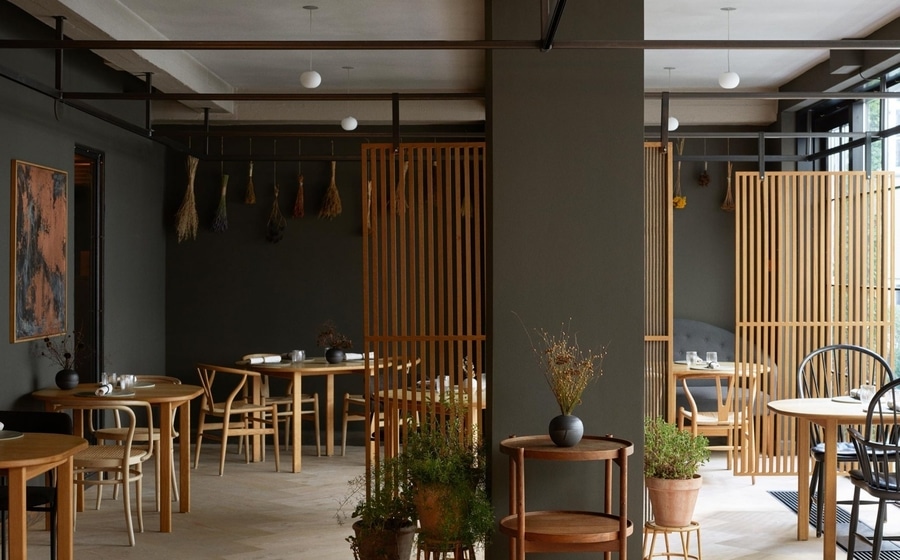 #

COMMERCIAL ARCHITECTURE PROJECTS
Interview. A New Look for Michelin Star Restaurant Kadeau Copenhagen
In 2015, Michelin star restaurant Kadeau Copenhagen welcomed guests in its new intimate dining room designed by OEO Studio. Five years later, Kadeau called upon OEO Studio again to update the space, integrating new tactile materials and warm color palettes around some of the original elements.
The designers worked with head chef Nicolai Nørregaard to create an atmosphere corresponding to the Danish island of Bornholm, from where the restaurant draws its culinary roots. In the re-designed space, diners will find furniture pieces by Fredericia, wall lighting from Astep, Kolumba brick floors, surfaces by Mutina and artworks by Copenhagen-based artist Farshad Farzankia.
ArchiExpo e-Magazine interviewed Thomas Lykke, Head of Design & Founding Partner of OEO Studio about his continued collaboration with Kadeau and improving upon a design he was already proud of.
ArchiExpo e-Mag: How did you feel about this opportunity to update your original design for Kadeau?
Thomas Lykke: It only happens occasionally that you get the chance to work on the same project, and we are happy that it was Kadeau. The original design was exactly what we had envisaged, yet as a designer, there are always things you want to do slightly differently. We agreed with chef Nicolai Nørregaard that it felt like the right time to give the space a makeover. OEO Studio was given free rein to make the changes.
ArchiExpo e-Mag: How did you translate head chef Nicolai Nørregaard's cuisine into a design concept?
Lykke: We worked with Nørregaard on the original space to translate his gastronomic philosophy into a physical environment: a universe where guests felt like they were dining at Nørregaard's home. This was a continuation of our collaboration on the first restaurant – a very open dialogue and fluid process as we had been through it together before. There was no big presentation or mood boards needed. Trust and communication were enough to guide the process.
ArchiExpo e-Mag: What aspects of the original design did you choose to keep? Which aspects did you choose to change and how do you feel these were improvements?
Lykke: Nørregaard had a number of requirements for the re-design, such as including a private dining room and adding a greenhouse adjacent to the lounge. He also wanted the wine cellar to be moved from the basement to become an integral part of the dining experience.
There were a few elements that I wanted to revisit – the old dining room waiter stations, and the long wall on the left of the space which felt a little empty.
For the newly designed Kadeau, we redesigned the large waiter station and we added the wine room. The result is a dining room that is even more intimate and cosy.
Part of the original design concept was to leave extra space between the tables so that guests enjoy an intimate and private experience even in a shared dining environment. That concept is more relevant now than ever due to the current global pandemic.
ArchiExpo e-Mag: How do the Italian brands you used compliment the Danish brands to create an atmosphere reminiscent of Bornholm?
Lykke: There is no direct link to Bornholm and Italian design – yet the surfaces, colors and textures are all conceptually composed to resemble and be reminiscent of the nature of Bornholm.
We worked with Italian brands for the lighting, and our ongoing design collaboration with Italian brand Mutina began at Kadeau five years ago. In the original design, we used Mutina for a large herringbone tile floor in the service kitchen and other Mutina tiles in the restrooms. Today you will find Mutina paint colors throughout the restaurant.
ArchiExpo e-Mag: Where did you source materials from?
Lykke: Most are locally sourced materials such as oak, the bricks from Petersen Tegl, copper and steel. The Douglas floor is from the Black Forest in Schwarzwald in Germany by Danish brand Dinesen. Some materials were not available locally and were sourced elsewhere, like the Celosia bricks by Mutina.